Not long ago Apple released their latest update to the OS X software
line titled "Mavericks". This new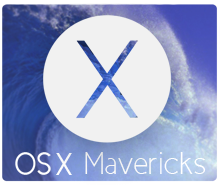 update was going to update some of the software that is already on your mac, and even add some new apps in the mix. Normally these kinds of updates cost around twenty to thirty dollars. In this case however, you can download the latest update from the app store for free. That's right, this operating system update downloads and installs much like an application and it is free to the public. It can also be used as an upgrade from your older OS to a newer one. Although the price tag is awesome, what exactly did they add to this update that makes it shine from the rest? Let's get started shall we?
One of the new features Mavericks offers, which is one of my personal favorites is the finder tabs. Normally you would have to open several windows and cycle through them to get from point A to point B to point C and it can become a mess real quick. However with the finder tabs you can open up several tabs in one finder window that you can also cycle through making it much easier to get from window to window. The best way to think of this is like an internet browser with its tab system. That's exactly how it functions. For me this is useful because of how many windows I normally have open in one usage. So this can benefit other users as well.
Submitted by
Ryan Cruey
Oct 30, 2013 at 5:05 PM
in
Apple,
Apple Mac,
OS X,
OS X Mavericks,
Video
tagged
Apple,
Article,
Mac OSX,
Mavericks,
OSX,
video
Post Comment