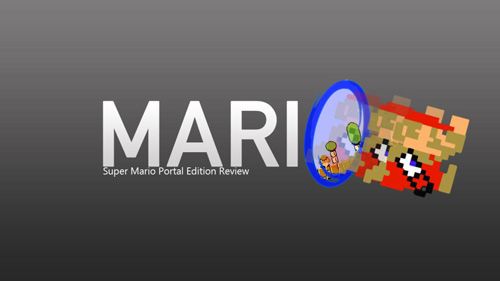 Super Mario Portal Edition is a game produced by StabYourself.net. The point of the game is playing Super Mario Bros classic with a portal gun. With the concept being cool the game had successfully pulled off the combination with extreme measures. The controls being a bit awkward at first are very easy to get used to after a while. If you are a PC gamer, then the controls are like the standard First Person Shooter gameplay. The WASD keys control movement, Left Shift is Fireball and running, and the mouse moves and fires the portal gun. Although the controls may take some time to get used to, the game is fun and entertaining and will provide with hours of entertainment.
My Thoughts:
At first the game was pretty interesting. I mean I am a big fan of the Super Mario Franchise and all, and I loved Portal… But something about this game was boring. When I started to play it again, and again, and again… I started to see why. After playing the game Super Mario for a while I started to feel like this game was nothing more than a repeat attempt at the same concept "Save the princess". But after looking around the menus I found a map editor and an extra map. So out of being bored I decided to play the new map first.
The new map is a series of aperture test facilities much like in the game portal. This allows for one to get used to, and full test out the portal gun. This would be a great puzzle/training map for those who are new to the game. You are able to pick up and move objects to set them on switches and open doors… So needless to say this map pack plays out like Portal. But in a 2D side scroller way instead of a 3D Adventure.
There isn't much to say about the map editor other than it edits maps. You can make maps where it would offer more of a challenge, but I don't see the fun in that. But let me tell you something else. I did get bored with this version of a Mario game, but I played a game called "Super Mario Crossover" which did the job for me in making the game fun. You can play as other Nintendo characters such as Link, Samus, Mega man, Simon Belmont, even Bill Riser. Which he is my favorite because of the spread gun being able to destroy blocks with no problem.
Thanks for reading and watching this article. This is Ryan and I will see you next time.
Links to Play games.
http://www.explodingrabbit.com/games/super-mario-bros-crossover
Did you like this video? Support us!
Http://www.youtube.com/user/thedeskgeek
Submitted by
Ryan Cruey
Apr 14, 2013 at 9:56 PM
in
Computer,
Games,
Gaming,
General,
Internet,
Video Games,
Web Game,
Youtube,
digital media,
download
tagged
Article,
Entertainment,
Funnym,
Humor,
Portal,
Super Mario,
Video Game,
gaming,
pc,
technology,
teksocial,
video
Post Comment