There is something incredible that happens when you have children. At first it is just a slight case of forgetfulness: you don't include milk on the shopping list, or you can't find your keys. But over time, this increases until you are forgetting why you walked into a room, or walk through an entire parking lot without realizing you passed your car twice.
Some people claim this has to do with age, but I disagree. I am still rather young, and I suffer from it worse than ever since child number two was born. It all seemed to begin with my first pregnancy, and get worse with my second. Now I am lucky if I can get through a day without a major faux pas or a whole lot of inconvenience.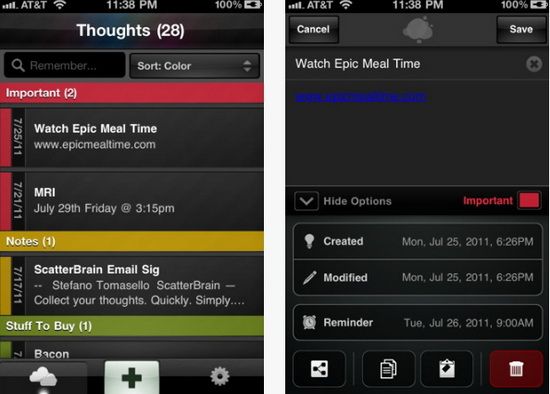 Either way, I don't rely on my memory anymore. It is just too risky, and I know I am bound to forget something. I used to utilize the sticky notes feature on my Windows desktop a lot, along with randomly created Notepad files. But this got really disorganized, and actually made the problem worst.
It was the issue of needing a single place for keeping track of things that led me to ScatterBrain.
What It Is
ScatterBrain is a simple little iPhone app that allows you to organize your thoughts, your schedule and keep track of different bits of information you might otherwise forget. It even reminds you of things like appointments, stuff to pick up at the store or special events that you are more prone to lose track of. Which is a great added bonus that makes it better than most note taking apps I have found.
The interface is nice. The background is black, with easy to read white text. The headers use different colors to organize your labels, and lets you resort them as you choose. The categories are all collapsible for easier scrolling.
Conclusion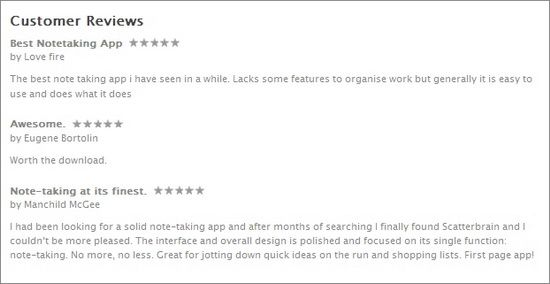 In the end, there isn't a whole lot to say about it. ScatterBrain is easy to use, has a very simple interface, is reliable with both notes and alerts and is free. So it has everything you would hope it does, without a lot of complicated or unnecessary features. Even using it is totally self explanatory, as you will see when you open the app for the first time.
A lot of my friends have started using ScatterBrain at my urging, and I would suggest it to anyone reading this now.
Submitted by
Ann Smarty
Dec 13, 2012 at 11:52 AM
in
TekSocial Review
tagged
Apple iPhone,
application review,
applications
Post Comment