One of the things I hate most about sharing my photos online is keeping a backup of them. I have the originals, which I keep in one place. Then I have my online accounts holding a digital copy. But then I make sure I have a backup folder with all pictures downloaded that I update on a regular basis by taking the photos from the site I have shared them on.
I personally use Flickr, and this presents a problem. Anyone who uses Flickr on a regular basis knows what a pain it is to download photos, especially more than one. Trying to download a whole bunch of them? It is so frustrating and time consuming that I used to banish the task to the end of every month, where I would force myself to sit down and go through the process with a bottle of wine and very little patience.
Making It Easier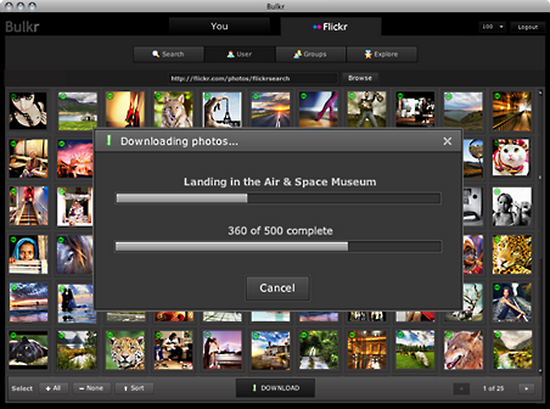 When I finally found Bulkr, I had two reactions. The first was relief and excitement, knowing that I would never again have to suffer through Flickr's primary interface to download photos. The second was utter rage, directed at myself, for never having been smart enough to look for a program to make it easier.
But the pain subsided and was quickly taken over with happiness as I saw how easy it was to use Bulkr. You just sync it as a third party app, connecting it to your Flickr account. You will then be given two main tabs called You and Flickr.
Within those tabs are other tabs that give you the more targeted options. In You there is Home, Photostream, Sets and Favorites. On the Home option, you are able to click Backup Your Photostream, which will do the work of backing each photo on your account up for you. But if you want to select specific photos, just click on one of the other tabs to see everything, collected sets or photos you have favorited on Flickr.
To browse Flickr itself, you just click on the main site tab. It will allow you to search photos, sort the by Interesting, Recent or Relevant and check out licenses (such as creative commons, my favorite feature).
If you like, you can also look through users and even groups. Which is a great way to get a collection of a specific genre of photograph, such as in a group's photo pool. Or just hit Explore to check out what is popular on Flickr right now.
Conclusion
Tekzilla did a great video review and quick tutorial on the use of Bulkr, for those who are interested. As you can see in the clip, it is very easy to work the program. All of the features are basic but functional. There are no bugs and it works just as it promises to.
Have you used Bulkr to clip and backup photos? Let us know what you thought in the comments.
Submitted by
Ann Smarty
Nov 15, 2012 at 7:34 PM
in
TekSocial How To,
digital media
tagged
flickr,
images,
photography
Post Comment