Mobile connectivity and features are shaping the way that we do business, making communication, web-based work and even payments possible while on the go. The real estate industry, in particular, serves as an excellent example of forward-thinking practices where mobile technology is concerned, making possible everything from remote form submissions to searching local real estate listings.
Speaking of searching, there is probably no task that you perform more often when it comes to real estate, right? In the name of more listings and faster results, here are four real estate search tools for the iPhone:
One of the top-rated real estate apps in iTunes, Real Estate by Zillow is a full-featured piece of software for iPhone that will give you an amazing amount of search power where real estate in the United States is concerned. With the extensive database of the Zillow Real Estate platform built in, users are able to get highly detailed information about any listing with only seconds needed to search.
According to VIP Realty Dallas, the Zillow app makes it possible to find listings on more than 100 million homes around the country, including those for rent, via traditional search or regional investigation done by taking a virtual drive on the hunt for your dream home. Built-in GPS features give you instant access to driving directions to the property of your choice, but, with detailed photo galleries filled with high-resolution images included with every listing, you may just see enough to save yourself a trip!
The Real Estate by Zillow app also incorporates Zillow's popular Zestimate home value and Zestimate rental value variables, giving you what amounts to professional advice before you've even seen a property for sale or rent!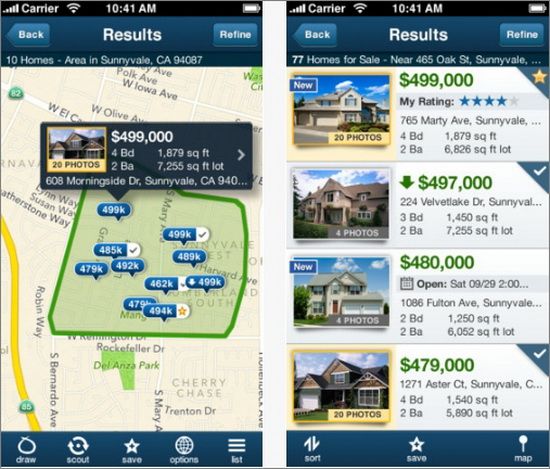 Considered by some to be the definitive source for real estate listings and information, REALTOR.com packs all of the punch of its powerful listings system into one real estate app for iPhone that you won't be able to do without.
Boasting more listings than any other real estate app, the REALTOR.com Real Estate app aims to be your mobile gateway to a complete real estate report when you need it. You can search manually, use GPS to instantly search for nearby homes for sale or even use your finger to outline a desired area on a map; no matter your method, the REALTOR.com app will immediately return results.
With the inclusion of a personal REALTOR.com account, you can use your profile to save favorite locations, be notified of new listings in a given area or even take notes on your favorite properties.
Providing an interface that combines slickness, beauty and pure functionality brilliantly, the Homes.com Real Estate Search app for iPhone presents all properties via high resolution photos, allowing you to search by any number of variables and then enjoy the show as you scroll through available homes.
Features of the Homes.com app include listings of local real estate firms and agents for each property, the ability to perform custom searches and the always handy offer of turn-by-turn directions for when you're exploring a neighborhood by vehicle.
Trulia is one of the best loved real estate websites in the world and the same quality that they're known for on the web is apparent in their iPhone app, as well! As is the case with most of its counterparts, you'll find extensive galleries of high resolution photographs along with GPS-driven location searching. Notably unique features to the Trulia app include the presentation of details about local businesses and landmarks, full-featured home alerts to be notified of new listings and more, all presented in a user-friendly, easy to navigate format built especially for the iPhone's screen.
Submitted by
AnnS
Oct 26, 2012 at 3:17 PM
in
App Review,
TekSocial Review
tagged
Apple iPhone,
Apps,
applications,
real estate,
search,
search engine
Post Comment